INFORMATION
TOUR MAP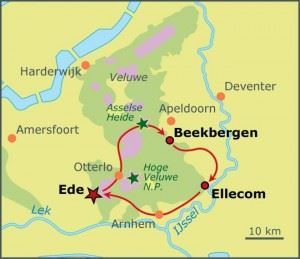 Ede (Overnight Stay: Day 1)
Beekbergen (Overnight Stay: Day 2)
Ellecom (Overnight Stay: Day 3)
Ede (Overnight Stay: Day 4) (Departure: Day 5)
STARTING PLACE (your choice)
GENERAL INFORMATION
Amount of days: 5
Hotel nights: 4
Cycling days: 3
Biking level: 1
Hotel stars: 3 and 4
Parking of car: free at hotel
Train station: Ede/Wageningen
Board: Breakfast (Half Board is optional)
E-bikes are available for rent on request
If preferred, GPS tracks are available
INCLUDED WITH THIS TOUR
8 nights with breakfast in 3 and 4 star hotels
Luggage transport from hotel to hotel
Big Buffet Breakfast each morning
Three course dinner or higher if you booked Half Board
Tourist information about the different places and sights
Cycling maps with detailed directions
On demand: All the tour route GPS files
Saddlebags to carry things during your biking trip
Service Hotline (7 days a week)
The option to rent bikes and/or trailers. More information here.
We can adapt the bike(s) to your needs
DAY TO DAY SCHEDULE
You arrive at the hotel in Ede and will enjoy your night in the quality hotel you are staying in.
Day 2:

Ede – Beekbergen
53 km
From the hotel in Ede you cycle in the direction of Otterlo via forests bike ways and smaller villages. Otterlo has an entrance to the National Park De Hoge Veluwe. Inside this outstanding natural National Park is the Kröller-Müller Museum, which has an extensive collection of paintings by Vincent van Gogh and lovely sculptures. Also, St. Hubertus Hunting Lodge is well worth a visit when you want to enjoy a drink on a terrace in this forest. Kootwijk is known for its nearby buildings of former Radio Kootwijk. There you can also find large sand dunes and sand banks, the Kootwijkerzand. In Apeldoorn you continue to Palace Het Loo with its beautiful gardens and water features. Then you reach woody Beekbergen and your hotel.
Day 3:

Beekbergen – Ellecom
49 km
After enjoying your breakfast in Beekbergen you continue your route to Voorst. Voorst is very enjoyable as it lies in the IJssel Valley and the eastern edge of the Veluwe, which is a beautiful place. During your tour you will see, when you look across the river the IJssel, the silhouettes of the beautiful, historic town of Zutphen. You cycle through a varied scenery of the river IJssel, rural areas and forests. You will end this day in the lovely village of Ellecom, where your hotel is.
Day 4:

Ellecom – Ede
61 km
The route leads through the beautiful nature of the Veluwe National Park and the Posbank. The route continues along the north side of Arnhem (Openluchtmuseum, Burgers Zoo and Bush) to Oosterbeek (Airborne museum). You continue your route along the Rhine and the Wageningsche Berg (Arboretum) leave the trail and cycle directly to Ede for your last night of the tour.
Day 5:

The Last Day of Your Trip
After enjoying the breakfast in the hotel you will go home again.
HOTELS
SELECTION OF HOTELS
For your daily overnight stays we select the best hotels from our pool of quality hotels. Because some of the hotels are sometimes fully booked we use this selection system so we can switch to the next hotel on the list if the previous hotel didn't have any rooms available.
GENERAL INFORMATION OF ALL HOTELS WE BOOK FOR YOU
All hotels are 3 or 4 star hotels selected for quality
Breakfast is included every morning of your trip (free)
Luggage transportation from hotel to hotel (free)
Three or higher course meal when you book Halfboard
Tour information/instructions in your arrival hotel
PRICES & DATES
BOOKING DATES: From April 1st until September 26th
| Holland's Biggest National Park Tour | Price |
| --- | --- |
| Double room per person, 4 nights | €544 |
| Breakfast | INCLUDED |
| Hotel-to-Hotel Luggage Transfers (1 suitcase per person) | INCLUDED |
| Additional Options | Price |
| --- | --- |
| Single Room | €295 |
| Rent 24-speed Hybrid Bike (go here for more options) | €52 (4 x €13) |
| Dinner (Every Night) | €130 (4 x €32,50) |
| Additional Night | €75 per night |
| GPS | €10 (price per tour) |