INFORMATION
TOUR MAP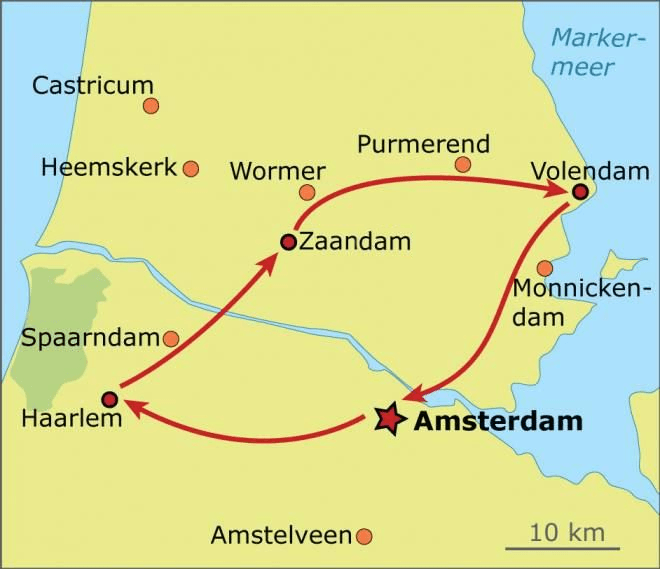 Amsterdam (Overnight Stay: Day 1)
Haarlem (Overnight Stay: Day 2)
Zaandam (Overnight Stay: Day 3)
Volendam (Overnight Stay: Day 4)
Amsterdam (Overnight Stay: Day 5) (Departure: Day 6)
STARTING PLACE
GENERAL INFORMATION
Amount of days: 6
Hotel nights: 5
Cycling days: 4
Total biking distance: 126 km
Biking level: 1
Hotel stars: 3 and 4
Parking of car: €12,50 a day at hotel
Train station: Amsterdam Central Station
Board: Breakfast (Half Board is optional)
E-bikes are available for rent on request
If preferred, GPS tracks are available
INCLUDED WITH THIS TOUR
5 nights with breakfast in 3 and 4 star hotels
Luggage transport from hotel to hotel
Big Buffet Breakfast each morning
Three course dinner or higher if you booked Half Board
Tourist information about the different places and sights
Cycling maps with detailed directions
On demand: Entire tour route GPS file
Saddlebags to carry things during your biking trip
Service Hotline (7 days a week)
The option to rent bikes and/or trailers. More information here.
We can adapt the bike(s) to your needs
DAY TO DAY SCHEDULE
Day 1:

Arrive in Amsterdam
Your cycling trip begins in Amsterdam, according to many the jewel of Europe. With so much entertainment and attractions, is a more vibrant start of your cycling tour imaginable? If you arrive earlier in Amsterdam as expected, you could make a quick stroll through the quaint town center. Just watching the characteristic mansions and magnificent seventeenth-century canals (UNESCO status) you can have fun for a day. Do you have time and energy? Walk further to the renowned "red light district that attracts millions of tourists. Or admire the many street artists on Rembrandt Square.
Day 2:

Amsterdam-Haarlem
29 km
In the end of the morning it's time to leave the vibrant capital. The hustle and bustle of the city is soon replaced by a unique landscape. In the area Kennemerland you will find a unique variety of natural beauty, such as polders, unique botanical gardens, deep forests and beautiful "veen" areas. You spend the night in the typical Dutch city of Haarlem, which is rich in art, culture, monuments, restaurants and cafes. Being one of the most beautiful old Dutch cities, Haarlem deserves to be extensively explored. In this monumental city with many attractions, you can wander around for hours without being bored for a moment. Do you fancy a morning soak art? Spend a visit to the Frans Hals Museum where you'll find unique art from the Golden Age.
Day 3:

Haarlem – Zaandam
29 km
After you leave Haarlem you bike along the Spaarne to Spaarndam, a protected village and known for the statue of Hans Brinker on IJdijk. Hansel is a figure from an American book, which portrays a story about a young boy who saved the country from flooding by stabbing his finger in a hole in the dike. After this you reach the Zaanse Schans. The Zaanse Schans is world-famous for its multiple windmills along the water. You can find old crafts, unique museums and beautiful green wooden houses from the 18th and 19th century here.
Day 4:

Zaandam – Volendam
34 km
After breakfast you go from Zaandam via Wormer to Volendam. Zaandam still has buildings standing with the traditional characteristics of old dutch buildings. Wormer is one of the oldest places of the area. Through Twiske, a place of recreation and nature in a typical North Holland lake area you reach Purmerend. The city has a historic center with a diverse range of shops. The village of Volendam is world famous with its many shops to browse around, restaurants and cafes. Thousands of tourists enjoy the authentic atmosphere and the view of the harbor and the water here every day.
Day 5:

Volendam – Amsterdam
30 km
Today you'll bike near lake Markermeer through towns such as Monnickendam and Volendam. You'll encounter "The Dijk" of Volendam with its many shops, restaurants and cafes. Hundreds of thousands of tourists every year enjoy the authentic atmosphere and the view of the harbor and the water here. Once back in Amsterdam you'll be welcomed by 900,000 bycicles, a vibrant city with many restaurants, beautiful canals and a old historic center.
After breakfast you return home again, hopefully full of new experiences and cultural enrichment!
HOTELS
SELECTION OF HOTELS
For your daily overnight stays we select the best hotels from our pool of quality hotels. Because some of the hotels are sometimes fully booked we use this selection system so we can switch to the next hotel on the list if the previous hotel didn't have any rooms available.
GENERAL INFORMATION OF ALL HOTELS WE BOOK FOR YOU
All hotels are 3 or 4 star hotels selected for quality
Breakfast is included every morning of your trip (free)
Luggage transportation from hotel to hotel (free)
Three or higher course meal when you book Halfboard
Tour information/instructions in your arrival hotel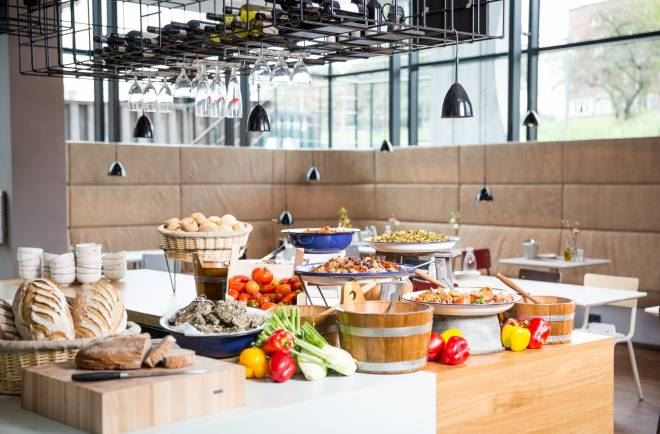 Buffet In Hotel In Amsterdam
PRICES & DATES
BOOKING DATES: From April 1st until September 25th
| Highlights Of Holland Tour | Price |
| --- | --- |
| Double room per person, 5 nights | €659 |
| Breakfast | INCLUDED |
| Hotel-to-Hotel Luggage Transfers (1 suitcase per person) | INCLUDED |
| Additional Options | Price |
| --- | --- |
| Single Room | €325 |
| Rent 24-speed Hybrid Bike (go here for more options) | €65 (5 x €13) |
| Dinner (Every Night) | €162,50 (5 x €32,50) |
| Additional Night | €75 per night |
| Amsterdam Surcharge | €50 per person in high season. €25 per person for extra and Saturday nights. |
| GPS | €10 (price per tour) |