INFORMATION
TOUR MAP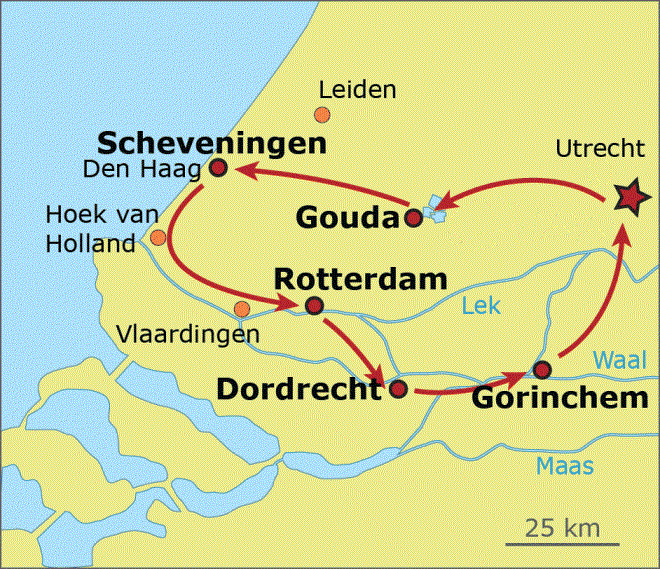 Utrecht (Overnight Stay: Day 1)
Gouda (Overnight Stay: Day 2)
Scheveningen (Overnight Stay: Day 3)
Rotterdam (Overnight Stay: Day 4)
Dordrecht (Overnight Stay: Day 5)
Gorinchem (Overnight Stay: Day 6)
Utrecht (Overnight Stay: Day 7) (Departure: Day 8)
STARTING PLACE (your choice)
GENERAL INFORMATION
Amount of days: 8
Hotel nights: 7
Cycling days: 6
Hotel stars: 3 and 4
Parking of car: free at hotel
Train station: CS Utrecht
Board: Breakfast (Half Board is optional)
E-bikes are available for rent on request
If preferred, GPS tracks are available
INCLUDED WITH THIS TOUR
7 nights with breakfast in 3 and 4 star hotels
Luggage transport from hotel to hotel
Big Buffet Breakfast each morning
Three course dinner or higher if you booked Half Board
Tourist information about the different places and sights
Cycling maps with detailed directions
On demand: Entire tour route GPS file
Saddlebags to carry things during your biking trip
Service Hotline (7 days a week)
The option to rent bikes and/or trailers. More information here.
We can adapt the bike(s) to your needs
DAY TO DAY SCHEDULE
Day 1:

Arrival in Utrecht
The first hotel you will be staying in is ideally located in the center of the Netherlands on the edge of the Rhine river. Utrecht has a wonderful old historic city center full of culture, shops and restaurants. Utrecht can be reached by train from Amsterdam Airport in approx. 45 minutes.
Day 2:

Utrecht – Gouda
66 km
Today you cycle along numerous country houses, castles, woods and parks before reaching "cheese town" Gouda. There is a traditional thursday morning cheese market in Gouda. The town is also known for its syrup waffles (try one hot!) and candles.
Day 3:

Gouda – Scheveningen
64 km
Through the green heart of the Netherlands you bicycle through grasslands to The Hague, the seat of government and royal residence of the Netherlands. The Hague offers many museums, beautiful buildings, events and shopping.
Day 4:

Scheveningen – Rotterdam
55km
You cycle through the coastal towns Kijkduin and Hook of Holland to Maassluis, an old fishing village. In Schiedam you find distilleries and mills. After the former fishing village Vlaardingen you bike to the modern city of Rotterdam with its modern skyline and major port areas. During your boat trip it is easy to see how the ports are being redeveloped into attractive areas today. From the Euromast, the highest tower of the country, you have a wonderful view of the city and the surrounding area.
Day 5:

Rotterdam – Dordrecht
37km
You continue your way by bike to Dordrecht. Dordrecht is one of the oldest cities of The Netherlands which is evident from all the historical buildings and churches you will encounter here. Also lots of cozy squares and streets to eat and drink something.
Day 6:

Dordrecht – Gorinchem
56km
Along the edge of the island of Dordrecht, you continue your way through a special freshwater area, National Park De Biesbosch. You'll cycle through and along polders, mills, willows, green pastures full of cows, farms, quaint villages, historic towns and wide rivers.
Day 7:

Gorinchem – Utrecht
55km
In the towns Gorinchem and Woudrichem history is still vividly present. This is evident from the ramparts, city gates, armories and other monuments. A few miles later you reach Utrecht, the fourth largest city in the Netherlands, with its unique architecture, numerous museums, hundreds of years old canals with low yards full of restaurant terraces, nice shopping and nice cafes and pubs.
HOTELS
SELECTION OF HOTELS
For your daily overnight stays we select the best hotels from our pool of quality hotels. Because some of the hotels are sometimes fully booked we use this selection system so we can switch to the next hotel on the list if the previous hotel didn't have any rooms available.
GENERAL INFORMATION OF ALL HOTELS WE BOOK FOR YOU
All hotels are 3 or 4 star hotels selected for quality
Breakfast is included every morning of your trip (free)
Luggage transportation from hotel to hotel (free)
Three or higher course meal when you book Halfboard
Tour information/instructions in your arrival hotel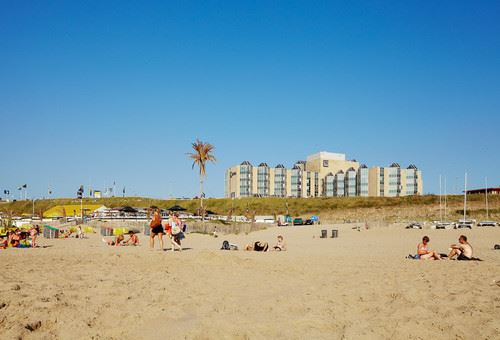 Hotel in Zandvoort
PRICES & DATES
BOOKING DATES: From April 1st until September 23th
| Dutch Canals & Dunes Tour | Price |
| --- | --- |
| Double room per person, 7 nights | €819 |
| Breakfast | INCLUDED |
| Hotel-to-Hotel Luggage Transfers (1 suitcase per person) | INCLUDED |
| Additional Options | Price |
| --- | --- |
| Single Room | €395 |
| Rent 24-speed Hybrid Bike (go here for more options) | €91 (7 x €13) |
| Dinner (Every Night) | €227,50 (7 x €32,50) |
| Additional Night | €75 per night |
| GPS | €10 (price per tour) |