INFORMATION
TOUR MAP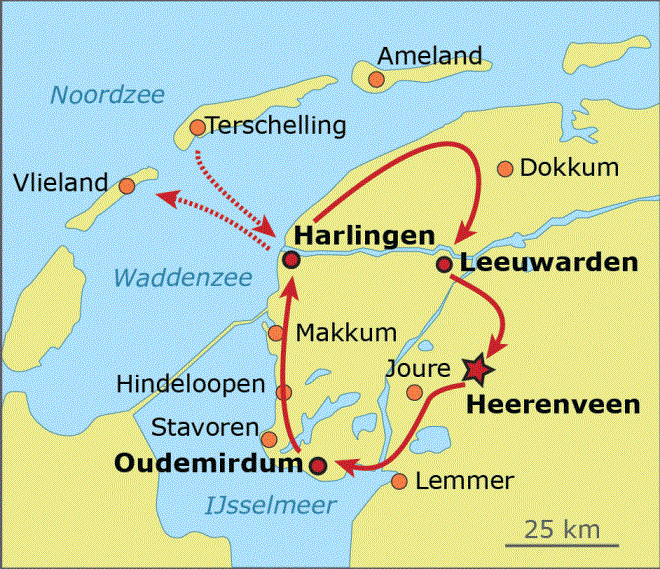 Heerenveen (Overnight Stay: Day 1)
Oudemirdum (Overnight Stay: Day 2)
Harlingen (Overnight Stay: Day 3)
Leeuwarden (Overnight Stay: Day 4)
Heerenveen (Overnight Stay: Day 5) (Depart: Day 6)
STARTING PLACE
GENERAL INFORMATION
Amount of days: 6
Hotel nights: 5
Cycling days: 4
Total biking distance: 226 km
Biking level: 1
Hotel stars: 3 and 4
Parking of car: €12,50 a day at hotel
Train station: Heerenveen
Board: Breakfast (Half Board is optional)
E-bikes are available for rent on request
If preferred, GPS tracks are available
INCLUDED WITH THIS TOUR
5 nights with breakfast in 3 and 4 star hotels
Luggage transport from hotel to hotel
Big Buffet Breakfast each morning
Three course dinner or higher if you booked Half Board
Tourist information about the different places and sights
Cycling maps with detailed directions
On demand: Entire tour route GPS file
Saddlebags to carry things during your biking trip
Service Hotline (7 days a week)
The option to rent bikes and/or trailers. More information here.
We can adapt the bike(s) to your needs
DAY TO DAY SCHEDULE
Day 1:

Arrival in Heerenveen
Heerenveen, also called the "Frisian Haagje", is an attractive place for tourists. It is the oldest peat canal village (1551) in the Netherlands. In the immediate vicinity is the major forest Oranjewoud with houses, parks and beautiful nature in which the modern museum Belvedere is located. Heerenveen can be reached by train from Amsterdam Airport in approximately 2 hours. Free parking at the hotel.
Day 2:

Heerenveen – Oudemirdum
47 km
You start your cycle tour and continue your way from Heerenveen to Joure where there is a large reclaimed peat area. The first large village that you encounter on the route is Lemmer, located on the IJsselmeer. The woody slightly undulating Gaasterland is the pearl of the IJsselmeer coast. Your overnight stay stop today is Oudemirdum.
Day 3:

Oudemirdum – Harlingen
60 km
After the varied landscape of Gaasterland and the beautiful views over the IJsselmeer lake you reach Stavoren, the oldest town in Friesland. You continue along the coast of IJsselmeer and through the picturesque towns Hindeloopen, Makkum and Workum, known for the typical Makkum pottery. After Makkum you cycle to Harlingen, a port and trading city, which is connected with the sea.
Day 4:

Harlingen – Leeuwarden
65 km
The trip will take you along the Frisian Wadden Sea with its levees, salt marshes, mudflats and mounds. From Westernijkerk you cycle a part of the route to the village with the almost mystic name Bartlehiem. Via the famous bridge of Bartlehiem you cycle along the river Dokkumer Ee to Leeuwarden, the interesting capital of the province of Friesland with its cultural highlights and museums.
Day 5:

Leeuwarden – Heerenveen
61 km
On your last cycling day you cycle from Leeuwarden to the lively village of Grou, a watersports town with many terraces near the water. After passing Grou and Akkrum you will arrive back in Heerenveen where you started your tour.
After breakfast you will return home. We hope you had a lovely time!
HOTELS
SELECTION OF HOTELS
For your daily overnight stays we select the best hotels from our pool of quality hotels. Because some of the hotels are sometimes fully booked we use this selection system so we can switch to the next hotel on the list if the previous hotel didn't have any rooms available.
GENERAL INFORMATION OF ALL HOTELS WE BOOK FOR YOU
All hotels are 3 or 4 star hotels selected for quality
Breakfast is included every morning of your trip (free)
Luggage transportation from hotel to hotel (free)
Three or higher course meal when you book Halfboard
Tour information/instructions in your arrival hotel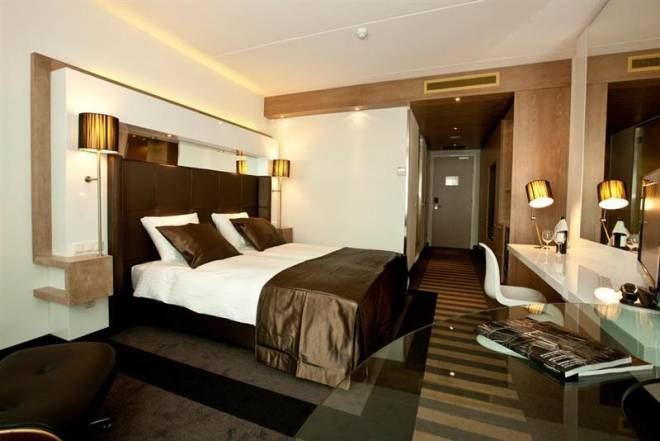 Hotel In Leeuwarden
PRICES & DATES
BOOKING DATES: From April 1st until September 25th
| Frisian Lakes and Towns Tour | Price |
| --- | --- |
| Double room per person, 5 nights | €679 |
| Breakfast | INCLUDED |
| Hotel-to-Hotel Luggage Transfers (1 suitcase per person) | INCLUDED |
| Additional Options | Price |
| --- | --- |
| Single Room | €395 |
| Rent 24-speed Hybrid Bike (go here for more options) | €65 (5 x €13) |
| Dinner (Every Night) | €162,50 (5 x €32,50) |
| Additional Night | €75 per night |
| GPS | €10 (price per tour) |