INFORMATION
TOUR MAP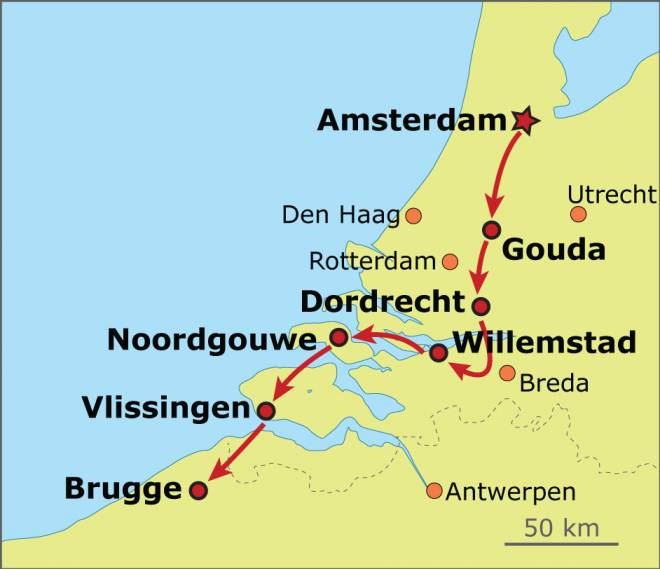 Amsterdam (Start or Finish of Tour – your choice)
Gouda (Overnight Stay: Day 2)
Dordrecht (Overnight Stay: Day 3)
Willemstad (Overnight Stay: Day 4)
Noordgouwe (Overnight Stay: Day 5)
Vlissingen (Overnight Stay: Day 6)
Bruges (Start or Finish of Tour – your choice)
STARTING PLACE (your choice):
GENERAL INFORMATION
Amount of days: 8
Hotel nights: 7
Cycling days: 6
Biking Distance: 320 km
Biking level: 1
Hotel stars: 3 and 4
Parking of car: €12,50 a day
Train station: Amsterdam Central Station
Board: Breakfast (Half Board is optional)
E-bikes are available for rent on request
If preferred, GPS tracks are available
INCLUDED WITH THIS TOUR
7 nights with breakfast in 3 and 4 star hotels
Luggage transport from hotel to hotel
Buffet Breakfast each morning
Three course dinner or higher if you booked Half Board
Tourist information about the different places and sights
Cycling maps with detailed directions
On demand: Entire tour route GPS file
Saddlebags to carry things during your biking trip
Service Hotline (7 days a week)
The option to rent bikes and/or trailers. More information here.
We can adapt the bike(s) to your needs
QUESTIONS?
You will probably find your answer on this page.
DAY TO DAY SCHEDULE
Day 1:

Arrival in Amsterdam
Your cycling holiday begins in Amsterdam, according to many the jewel of Europe. With so much entertainment and attractions, a more vibrant start of your cycling is almost inconceivable. If you arrive on time in Amsterdam, make a stroll through the quaint town center. Just watch the characteristic mansions and magnificent seventeenth-century canals (UNESCO status). Do you have time and energy? Then walk on through the renowned "red light" district that attracts millions of tourists annually, or admire the Rembrandt Square.
Day 2:

Amsterdam – Gouda
71 km
In the middle of Dutch largest metropolitan area is a unique piece of nature: the Green Heart. The area is a pleasant contrast. You will see the many faces of this unique area: polders, bogs, water and beautiful historic towns adorn the landscape. The tour will continue to the city of Gouda that is known throughout the world for its Gouda cheese. Except for cheese, Gouda is also known for its waffles and candles. Make a early evening stroll along the beautiful canals and impressive old buildings.
Day 3:

Gouda – Dordrecht
52 km
Today you can admire one of "Hollands" most popular tourist attractions: mill complex Kinderdijk. These nineteen typical Dutch windmills built in the 16th century adorn into an equally typical Dutch landscape and are a true Dutch icon. Did you always wanted to know how to become a miller? You can learn it here. Also discover how an authentic windmill works, visit the mill shop and look at how a mill is built. You spend the night in Dordrecht, one of the oldest Dutch cities. Place a vist to the port district with its many historic buildings!
Day 4:

Dordrecht – Willemstad
39 km
Today you will cycle through one of the largest Dutch national parks: De Biesbosch. This largely untouched nature reserve park, which is rich in rivers, streams, lakes and islands, is one of Europe's few freshwater tidal areas with tides. The tour will continue to Willemstad, an old fortified town at the Haringvliet.
Day 5:

Willemstad – Schuddebeurs
50 km
Today you will enjoy a mosaic landscape of polders, rolling dunes and golden sand plates. Via the bridge over the Grevelingenmeer, the largest salt water lake in Western Europe, you reach the island of Schouwen-Duiveland. Schouwen-Duiveland is also called the jewel of Zeeland. The impressive landscape is rich in hilly dunes, pristine beaches and beautiful forests. In the rural Schuddebeurs you spend the night in a charming hotel.
Day 6:

Schuddebeurs – Flushing
53 km
Your day starts with an interesting piece of architecture: the Zeeland Bridge. This bridge was once the longest bridge in Europe and is adorned with no less than fifty arches. With stunning views of the Oosterschelde you'll cycle via The Zeeland Bridge to North Beveland, the second smallest island of the province of Zeeland. You continue your route through the charming town of Veere to Middelburg. Middelburg, the capital of Zeeland, is one of the oldest Dutch cities. And that is reflected in the many historic buildings that make the city so special. At the end of the day you reach the city of Vlissingen, a harbor city known for its fishing.
Day 7:

Flushing – Bruges
50 km
After a hearty breakfast in Vlissingen you cross by ferry over the Westerschelde. You arrive in southern Flanders with its infinite roads adorned with ancient willows, wet grasslands, Spanish forts and fortifications. Through picturesque villages and hamlets you reach the fortress town of Sluis, situated on the border with Belgium. The tour continues to the charming little town of Damme along the romantic Damme Canal. After that it's only a short bike ride to the historic town Bruges. The Belgian city is rich in medieval streets, historic buildings and other attractions. So take some time to visit this impressive city.
After breakfast your holiday has come to an end! Hope you had a great time in Holland and Belgium!
HOTELS
SELECTION OF HOTELS
For your daily overnight stays we select the best hotels from our pool of quality hotels. Because some of the hotels are sometimes fully booked we use this selection system so we can switch to the next hotel on the list if the previous hotel didn't have any rooms available.
GENERAL INFORMATION OF ALL HOTELS WE BOOK FOR YOU
All hotels are 3 or 4 star hotels selected for quality
Breakfast is included every morning of your trip (free)
Luggage transportation from hotel to hotel (free)
Three or higher course meal when you book Halfboard
Tour information/instructions in your arrival hotel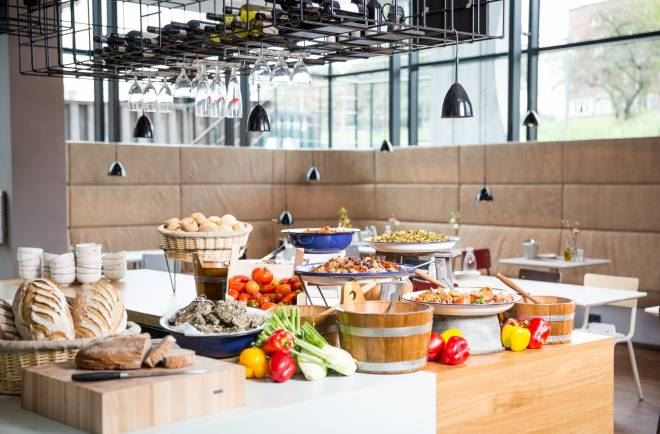 Buffet in Hotel In Amsterdam
PRICES & DATES
| Amsterdam to Brugge Tour | Price |
| --- | --- |
| Double room per person, 7 nights | €859 |
| Breakfast | INCLUDED |
| Hotel-to-Hotel Luggage Transfers (1 suitcase per person) | INCLUDED |
| Additional Options | Price |
| --- | --- |
| Single Room | €325 |
| Rent 24-speed Hybrid Bike (go here for more options) | €91 (7 x €13) |
| Dinner (Every Night) | €227,50 (7 x €32,50) |
| Additional Night | €75 per night |
| Amsterdam Surcharge | €50 per person in high season. €25 per person for extra and Saturday nights. |
| GPS | €10 (price per tour) |