INFORMATION
TOUR MAP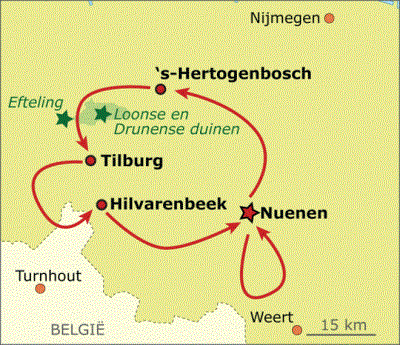 Nuenen (Overnight Stay: Day 1 & 2)
's-Hertogenbosch (Overnight Stay: Day 3)
Tilburg (Overnight Stay: Day 4)
Hilvarenbeek (Overnight Stay: Day 5)
Nuenen (Overnight Stay: Day 6) (Departure: Day 7)
STARTING PLACE
GENERAL INFORMATION
Amount of days: 7
Hotel nights: 6
Cycling days: 5
Biking level: 1
Hotel stars: 3 and 4
Parking of car: free at hotel
Train station: Eindhoven
Board: Breakfast (Half Board is optional)
E-bikes are available for rent on request
If preferred, GPS tracks are available
INCLUDED WITH THIS TOUR
6 nights with breakfast in 3 and 4 star hotels
Luggage transport from hotel to hotel
Big Buffet Breakfast each morning
Three course dinner or higher if you booked Half Board
Tourist information about the different places and sights
Cycling maps with detailed directions
On demand: Entire tour route GPS file
Saddlebags to carry things during your biking trip
Service Hotline (7 days a week)
The option to rent bikes and/or trailers. More information here.
We can adapt the bike(s) to your needs
DAY TO DAY SCHEDULE
Right after arriving you can admire the village of Nuenen, where van Gogh lived from 1883 to 1885 and painted several of his world famous paintings. You will stay overnight in this village. You probably want to start with a visit to the Vincentre.
Day 2:

Daytrip in the Nuenen area
You will make a roundtrip by bike in the Nuenen area to discover the 20+ Van Gogh highlights.
Day 3:

Nuenen – 's Hertogenbosch
56 km
Today you will explore the landscape of the Brabant province with landscapes that inspired the painter in his work. The cycling route is signposted with special Van Gogh route signs. At the end of the day you arrive in the capital of the province, 's-Hertogenbosch. Next to a lively city centre full of restaurants you will find the North Brabant Museum, an important museum with the art and history of Brabant. Here you can find original works by Van Gogh, like the female farmers of the Potato Eaters and his father's Rectory.
Day 4:

's Hertogenbosch – Tilburg
43 km
On day three you leave 's Hertogenbosch on the southern side, through Vught. You will cycle to the "Loonse and Drunense" Dunes, through Oisterwijk to Tilburg. At the spot where once was Van Gogh's school, today children are learning to draw and paint in Vincent's Art Room. In a reconstructed classroom, you see how he got his first serious drawing lessons from his teacher Constant Huijsmans.
Day 5:

Tilburg – Hilvarenbeek
34 km
Enjoy the peace and tranquility of this cycling day. Between Alphen and Goirle you will cycle along the border of Belgium. The paintings of Vincent will come to life.
Day 6:

Hilvarenbeek – Nuenen
43 km
On your last day of cycling you will cross narrow paths back to Nuenen. Again you will come across the beautiful fields and farmlands he loved so much. Back in Nuenen, you can look back on your trip and dream about what Van Gogh was doing only a hundred plus years ago in this very place.
After breakfast your cycling holiday comes to an end.
HOTELS
SELECTION OF HOTELS
For your daily overnight stays we select the best hotels from our pool of quality hotels. Because some of the hotels are sometimes fully booked we use this selection system so we can switch to the next hotel on the list if the previous hotel didn't have any rooms available.
GENERAL INFORMATION OF ALL HOTELS WE BOOK FOR YOU
All hotels are 3 or 4 star hotels selected for quality
Breakfast is included every morning of your trip (free)
Luggage transportation from hotel to hotel (free)
Three or higher course meal when you book Halfboard
Tour information/instructions in your arrival hotel
PRICES & DATES
BOOKING DATES: Every Friday and Saturday From April 1st until September 24th
| Van Gogh Tour | Price |
| --- | --- |
| Double room per person, 5 nights | €749 |
| Breakfast | INCLUDED |
| Hotel-to-Hotel Luggage Transfers (1 suitcase per person) | INCLUDED |
| Additional Options | Price |
| --- | --- |
| Single Room | €395 |
| Rent 24-speed Hybrid Bike (go here for more options) | €78 (6 x €13) |
| Dinner (Every Night) | €195 (6 x €32,50) |
| Additional Night | €75 per night |
| GPS | €10 (price per tour) |